It's good to be young and successful in the NFL — until a player is not paid what he's actually worth to his team.
The nature of the league's rookie wage scale and initial contracts aren't exactly player friendly, especially when said player well outperforms his draft status.
From draft class of 2014 standouts who would like their big cash now to the immediate big bargains from 2016, here are 15 guys providing the biggest bang for moderate bucks going into the season. In other words, "Pay the man!" NFL Games Today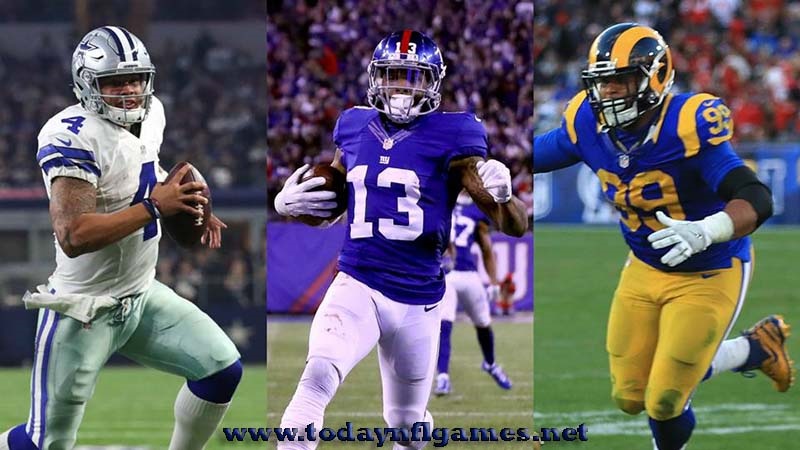 1. Dak Prescott, QB, Cowboys
2017 salary: $540,000
Average annual salary: $680,848
Meet the new Russell Wilson in terms of a team getting cheap, immediate results from the game's most important position. Jerry Jones might as well start backing up the Brinks truck and get the Cowboys' salary-cap prepared to properly compensate Prescott in a couple seasons.
2. Aaron Donald, DT, Rams
2017 salary: $1.8 million
Average annual salary: $2.534 million
Donald has good reason to be unhappy about not getting his new deal yet. He's the face of the franchise, much like J.J. Watt has been for the Texans. The only difference is Donald has been healthier and more productive of late, taking the true title of "best defensive lineman in the league." Donald deserves Watt money, stat.
3. David Johnson, RB, Cardinals
2017 salary: $615,000
Average annual salary: $729,843
Johnson is in for a monster raise soon, and he can look to franchise-tagged second-rounder Le'Veon Bell for some inspiration. The third-rounder from 2015 is already the league's best all-around running back, a special talent in the Marshall Faulk vein.
4. Landon Collins, S, Giants
2017 salary: $991,415
Average annual salary: $1.53 million
All the focus has been on teammate Odell Beckham Jr.'s worth to the team, but Collins, the young heart, soul and dominant playmaker on defense — now the Giants' better side of the ball — should have eyes on Earl Thomas- and Eric Berry-type money soon. He was an absolute second-round steal.
5. Odell Beckham Jr., WR, Giants
2017 salary: $1.83 million
Average annual salary: $2.6 million
OK, but we're certainly not leaving OBJ off this list, either. With Eli Manning struggling of late, just imagine what New York's passing game would be without Beckham as the straw stirring the drink. In an era full of first-round wideout whiffs, Beckham has done things few have to start a career at the position.
6. Zack Martin, G, Cowboys
2017 salary: $1.64 million
Average annual salary: $2.24 million
Before Jones puts away a small fortune for Prescott, he needs to take care of Martin. Interior offensive linemen lesser than him have enjoyed cashing in during free agency. The best guard in the league deserves the most guard money.
6. Jordan Howard, RB, Bears
2017 salary: $540,000
Average annual salary: $647,000
Howard is right there with Johnson, Ezekiel Elliott, Jay Ajayi and Melvin Gordon in the new wave of top-flight running backs. He's pretty much already what Matt Forte was for several seasons in Chicago. It's sad that Howard has to see Mike Glennon and Mitchell Trubisky get so much in 2017 while he is the only established force in the offense.
7. Tyreek Hill, WR/KR, Chiefs
2017 salary: $540,000
Average annual salary: $646,555
Hill had a terrific rookie season as a returner, receiver and rusher, bringing some much-needed dynamism to a predictable Chiefs offense. He didn't waste time reaching Pro Bowl status, and in Year 2, he'll also serve as the team's No. 1 wide receiver in what behind him is a very shaky corps without Jeremy Maclin.
8. Jarvis Landry, WR, Dolphins
2017 salary: $893,858
Average annual salary: $868,728
Miami has kept trying to upgrade at wide receiver for Ryan Tannehill. While others have had issues, from the get-go, Landry has been a premier possession receiver with great hands and dangerous burst, and that's before getting to what he's meant to the team in the return game. He won't get paid like Beckham, but he will still out-earn his second-round status.
9. Taylor Lewan, OT, Titans
2017 salary: $1.99 million
Average annual salary: $2.87 million
The Titans are the only team that can challenge the Cowboys for the best offensive line in the NFL. Although rookie right tackle Jack Conklin got plenty of buzz in 2016, Lewan quietly settled in as a dominant blindside bookend for Marcus Mariota. Now he needs elite left tackle money to match.
10. Anthony Barr, OLB, Vikings
2017 salary: $2.15 million
Average annual salary: $3.185 million
Khalil Mack is doing much better before his bigger deal, but Barr, who has done everything in Mike Zimmer's versatile, linebacker-friendly scheme, could use a significant bump. There's not much he can't do as the backbone of the defense.
11. Mike Evans, WR, Buccaneers
2017 salary: $2.41 million
Average annual salary: $3.657 million
In relation to OBJ, there has been limited attention given to the fact that Evans was the better wide receiver last season and also has the higher 2014 draft status. He should hope that Beckham gets the Giants to give in, because then he can justly ask for more.
12. Devonta Freeman, RB, Falcons
2017 salary: $1.797 million
Average annual salary: $676,106
Freeman is a pending free agent in 2018. He has risen well above his fourth-round status with his consistent excellence as a rusher and receiver the past two seasons. Atlanta seems to know his new high value, too, and it's likely that even with Tevin Coleman, it locks up its more indispensable back.
13. Malcolm Butler, CB, Patriots
2017 salary: $3.91 million
Average annual salary: $3.91 million
Butler was a top-five cover corner in the league last season, unlike new teammate Stephon Gilmore, who got signed away from the rival Bills for $31 million guaranteed as part of a five-year, $65 million deal. There was no reason for New England, with tons of cap room, to move Butler, but rather take advantage of one more cheap year from the Super Bowl hero before he likely walks for megabucks elsewhere.
14. Ha Ha Clinton-Dix, S, Packers
2017 salary: $1.547 million
Average annual salary: $2.084 million
While Collins has had more immediate impact as the better safety product from Alabama, Clinton-Dix has found his own playmaking groove in Green Bay's secondary. The Packers have drafted a ton of defensive backs of late, but Clinton-Dix has been the best bargain regardless of round.
15. Allen Robinson, WR, Jaguars
2017 salary: $898,755
Average annual salary: $877,718
Robinson, a second-rounder in 2014, was bound to come back to earth a little after posting 80 catches for 1,400 yards and a league-high 14 receiving TDs in 2015. But with Blake Bortles in a funk last season, Robinson had a big drop-off with the same number of targets (151), posting a 73-883-6 final line. Still, there's no doubt he's the Jags' irreplaceable No. 1, as Allen Hurns faded hard as a No. 2.
News Source : www.sportingnews.com
Other Posts :